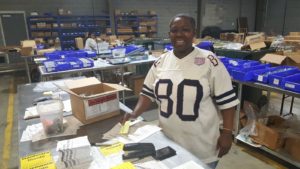 Welcome to Martin Enterprises                                   
Are you or a loved one looking for vocational services? Do you know someone with a disability who wants an opportunity to better themselves? If so, Martin Enterprises may be able to help!
Martin Enterprises is a non-profit, located in Williamston, NC, that offers programs for people with various levels of disability. The specific programs that are available are CLFS – community living facilities and supports, Vocational Services Program, PSR – Psychosocial Rehabilitation, and the Innovations Waiver Services program. ME also operates two group homes, located in Martin County, for six residents each where they are provided 24 hour care.
The mission of Martin Enterprises is to provide opportunities, training, and supports for individuals to assist them in becoming as independent as possible at home, at work, and in the community throughout Eastern North Carolina. To continue to provide these services, ME relies on contracts with local businesses. Clients complete various types of work that can be done at our facility, including packaging, assembly, inspections and more. All work is done in accordance with desired specifications and timelines. For more information about our vocational programs or our contract work abilities please call us at 252-792-8251 today!